If you're looking for a unique and exciting way to explore the stunning natural beauty of the Eastern Townships in Quebec, then glamping is the ideal option. Glamping, or glamorous camping, combines the rustic outdoor adventure of camping with luxurious amenities.
From cozy cabins in wooded settings to safari tents nestled along rivers, there are plenty of great glamping spots to choose from throughout the Eastern Townships. From mountains and lakes to rolling hills and forests, this area offers some of the most impressive natural scenery in Quebec, making it an idyllic spot for a glamping getaway.
What are the best places to glamp in the Eastern Townships of Quebec?
Although there are a lot of different options for glamping lovers on this side of Canada, here are a few of our favorites.
Whether you want to camp by a river or a lake, hike through lush green forests, or take advantage of nearby activities like canoeing or kayaking, you'll be sure to find something that suits your interests when glamping in this region.
Lao Cabines
Lao Cabines is the perfect spot for anyone looking for a unique and luxurious glamping experience in the Eastern Townships. Situated amongst towering trees, Lao Cabines offers a range of eco-friendly tree houses with all the modern comforts to make your stay truly special. With stunning views of nature and plenty of outdoor activities to keep you busy, this is one glamping destination you won't want to miss.
The luxurious tree houses feature spacious interiors with comfortable beds, full bathrooms, and equipped kitchens. The micro-cabins are stylishly designed to create a cozy atmosphere, and all the amenities are carefully chosen to ensure maximum comfort. They also sport a private balcony, which allows guests to sit back and take in the tranquil surroundings from above for a great experience in nature.
For those who want to explore further, Lao Cabines also offers an array of outdoor and relaxing activities, including canoeing, SUP, spas, and mountain biking. The nearby lakes are ideal for swimming during those hot summer days, while winter activities like snowshoeing or cross country skiing offer great fun when the snow falls.
Whether it's a romantic retreat or an adventure-filled getaway with friends, Lao Cabines provides everything you need for an unforgettable glamping experience in the beautiful Eastern Townships. With its cozy tree houses and scenic environment, this is definitely one destination that deserves a spot on your bucket list!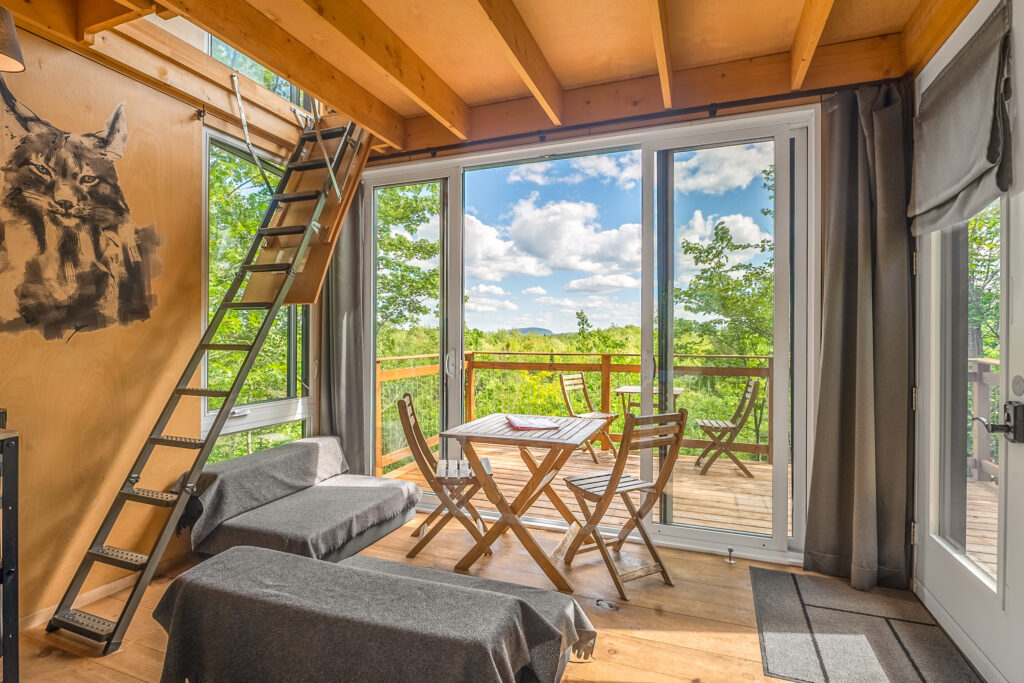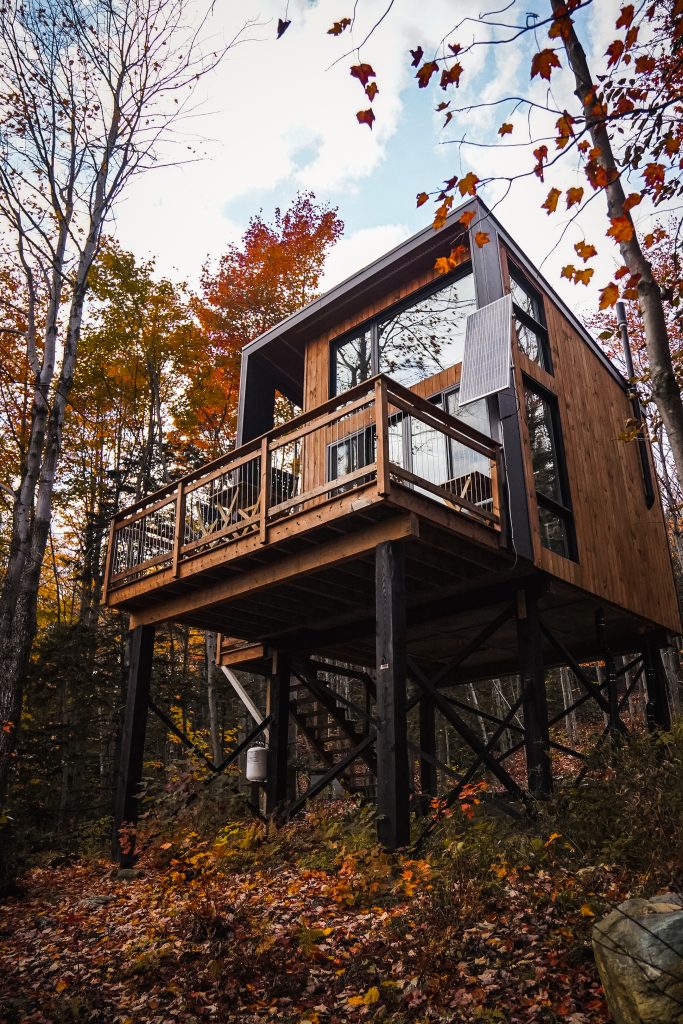 Siboire's Microbrewery
Looking to add a unique twist to your glamping adventure? Then you'll want to check out Siboire's Microbrewery. Located in the heart of the Eastern Townships, this microbrewery offers a unique accommodation option for those looking for an out-of-the-ordinary stay.
A microbrewery is a small-scale brewery that produces limited amounts of beer on a regular basis. Unlike traditional breweries, microbreweries are owned and operated independently with the goal of crafting unique and innovative flavors. The beer produced is often served directly to local customers through taprooms or restaurants.
If you'd like to mix a bit of time away in nature with some local, delicious beers, Siboire's Microbrewery is the perfect choice for your glamping getaway. Apart from their exclusive range of beers, guests can also take advantage of the many activities offered in the vicinity, including fishing, golfing, kayaking, and more.
A Mongolian experience in the heart of Canada
Hébergement aux Cinq Sens is the perfect destination for glamping in Quebec's Eastern Townships. Located in Piopolis, on aboriginal ancestral land, this site offers luxurious yurts that perfectly combine traditional Mongolian structure with modern amenities, allowing guests to enjoy a year-round glamping experience. Each of the five yurts has been named after one of the five senses and is decorated with objects designed to awaken your senses.
Those who choose to stay at the Hébergement aux Cinq Sens glamping resort also receive the unique "Marche avec l'esprit de la forêt" experience. During this one-hour guided walk through nature, visitors are led by a knowledgeable tour guide while they explore their surroundings and engage in activities designed to immerse them in the natural environment.
These activities may include drumming or flute performance near a stream, or visiting the Aboriginal mini museum and learning about chaga tea. Hébergement aux Cinq Sens is an eco-responsible site that offers guests an unparalleled glamping experience full of luxuries and nature immersion. From private hot tubs to captivating Aboriginal cultural experiences, there's something for everyone here! And best of all, it's conveniently located deep within the stunning Eastern Townships region, with its picturesque landscapes and attractions that are sure to take your breath away!
La Gitane Cottage 
Nestled at the edge of the water, La Gitane Cottage affords you a breathtaking view of a small waterfall that will transport you into an imaginary world with an immersive experience. Whether it's a romantic glamping trip for two or a thrilling family vacation, this serene spot is sure to provide you with some much-needed respite from your daily lives. La Gitane Cottage provides direct access to the Nicolet River, making it ideal for canoeing and kayaking trips, as well as inflatable games, a BMX track, and karting courses nearby.
Want to experience a great glamping experience?
If you're looking to get away from the hustle and bustle of everyday life and have a unique, luxurious camping experience, then glamping in the Eastern Townships of Quebec is the perfect option. However, if you want to enjoy your experience to the fullest, there are some things you need to keep in mind.
Whichever activity or experience takes your fancy during your glamping holiday in Quebec's Eastern Townships, rest assured that whatever it may be, you'll return home feeling refreshed and ready to embrace your daily life once again!